KENTIX SmartXcan: Effective protection against virus spreading
Secure: exact, contactless measurement
Intuitive: Self-explanatory user guidance
Fast: Throughput up to 700 persons/hour
Manipulation protection through intelligent thermal image analysis
Stand alone operation or manual or automated inlet control possible
Provision of anonymous measurement data for hotspot detection
Efficient plug & play installation through PoE connection

Effective procedures and methodologies to combat the spread of viruses
Identification of infected persons is crucial
In order to permanently reduce the risk of spreading viral diseases (COVID-19, influenza, etc.) in public areas and at the same time to make a better forecast of emerging geo-hotspots, it is necessary to carry out an early identification of infected persons. The access of these persons to crowds of people of any kind must be prevented and it must be possible to supply collected data in real time, in compliance with EU-GDPR, to AI-supported analysis databases.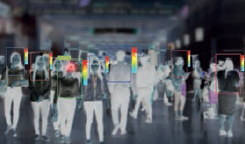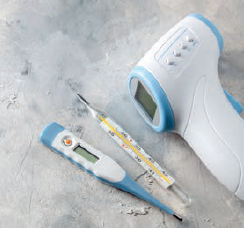 Fever measurement as effective and pragmatic method
Fever is a non-obligatory, non-specific symptom, but it is a very useful screening tool for infections such as the corona virus. Any infection that is detected early can potentially save several lives. For this reason, fever measurement plays an important role in the detection of potentially infected persons, because:
Fever is by far the most common initial diagnosis (according to WHO Report 2/2020: 87.9% for COVID-19)
The body temperature due to the increasing immune defenses already rises before the onset of usual symptoms.
Detection can usually take place even with a low virus load.
Simple measurement for many applications
An automated, safe and intuitive fever measurement at central, preferably electrically controlled access points to crowds of people is an important measure that has been tested in many risk regions:
To provide long-term and sustainable protection against viral diseases
To re-establish social and economic contacts while controlling
The risk of epidemics flaring up again
Restore public confidence in public security